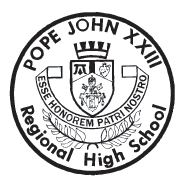 The Pope John XXIII Endowment Fund, Inc. (Endowment Fund), founded on February 15, 1985, is a recognized 501(c)(3) organization.  While its assets are legally separate from Pope John XXIII High School, under the independent control of the Board of Trustees, the clear intent and purpose of the Endowment Fund is to solicit donations, administer the investments and provide long-term security of Pope John XXIII High School. The Board of Trustees of the Endowment Fund holds regular meetings in which it discusses and takes definitive action in:
Ways it can provide financial support for Students attending Pope John XXIII High School.
Ways it can support the Faculty of Pope John XXIII High School.
Ways it can provide for: Structures, Land, and Maintenance of the facilities for the benefit of Pope John XXIII High School.
Ways it can provide for current and future fundraising campaigns in an effort to increase the size of the Endowment Fund.
Ways it can effectively monitor, manage, and distribute assets for the above-mentioned goals.
The Board of Trustees is an important force as it continues to formulate the strategic vision to aim for and reach excellence each school year.
Dec 19, 2022

|

In Memory Of

The Pope John Endowment Fund would like to extend our condolences and thanks to the friends and families of Joyce K. Reffi and alum Grace Irene Wargo who generously donated to the Endowment in their memory.
We would also like to thank everyone who is making donations in memory of former Pope John teacher and parent Michele Hubley. As a foreign language teacher at Pope John she left a tremendous and positive legacy at Pope John and on all her students. Our sincere condolences to her family at this difficult time.

Nov 28, 2022

|

Giving Tuesday - November 29, 2022

The Tuesday after Thanksgiving has become a day to give back during the busy shopping season. The Pope John Endowment makes it easy to donate online. Please click on the Giving tab at the top of this page then "Make an online donation." If you would like to donate in memory of an alum or family member just let us know in the comment section. We are a 501c3 non-profit and all donations are tax deductible. We thank everyone who generously donates and helps us to support Pope John XXIII High School.
Regional High School | Grades 8 through 12
28 Andover Road
Sparta, New Jersey 07871
United States
973-729-6125
Words Of Praise
"Thank you for your dedication to our school and for keeping it safe in perpetuity for the children of our present and future community"
'Pope John is a special place and I'm honored to be a part of it.'
"When someone asks me what school I attend, I am very proud to say Pope John High School."
"We want to extend to all of you our deepest gratitude and appreciation for the efforts and successes of the Pope John XXIII Education Endowment Fund. Through the kindness and generosity of others, we have been given the opportunity to have our child attend Catholic school and in eighth grade become part of the Pope John family."
I went to Reverend Brown and I'm ready to "take the hill" and attend Pope John HS.
'I love my work at Pope John High School and am so thankful for the continued support provided by the Pope John Endowment Fund'
"I enjoy the community of Pope John and enjoy working here."
"I'm a Pope John Alum, my kids are Pope John Alum. I hope my Grandkids will be too. It's tradition!"
"We are truly blessed to have such great and genuine support."
"I pray that those who donate to this outreach effort for families in need realize the important contribution they are making in the lives of the children and their families."
Subscribe to our
Mailing List